What is oculoplastic surgery
Oculoplastic surgery has emerged as one of the most popular forms of surgery in recent years, with increasing numbers of patients opting for treatment. Indeed, an influential study published by Eye [London] found that patients who received one of the four most popular oculoplastic procedures enjoyed life-changing benefits as a result.
Oculoplastic surgery, also known as ophthalmic plastic & reconstructive surgery, is a specialized dynamic field of medicine that combines the microsurgery of ophthalmology with the cosmetic principles of plastic surgery.
What is the focus of the oculoplastic surgery?
This branch of ophthalmology focuses on plastic and reconstructive surgery of the eyelids, tear ducts, and orbit, along with cosmetic surgery of the eyelids and brows. Oculoplastic surgeons also perform aesthetic rejuvenation procedures on the face with Botox, dermal fillers, etc.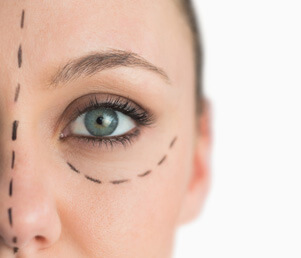 Types of oculoplastic surgery
There are many different oculoplastic surgeries designed to address medical conditions and/or cosmetic concerns. Some of the most common include:
Cosmetic eyelid surgery (also known as 'blepharoplasty')
Eyebrow lift (used to address droopy or heavy eyebrows)
Midface lift
Entropion repair
Ectropion repair
Ptosis surgery
Eyelid reconstruction (following trauma or tumor removal)
Facial nerve palsy rehabilitation surgery
Surgery for tearing disorders
Socket reconstruction surgery
Thyroid eye disease rehabilitation surgery
Orbital tumor surgery
Orbital fracture evaluation and repair
Eyelid, Lacrimal & Orbital Diseases
Learn more about the disease you are interested in